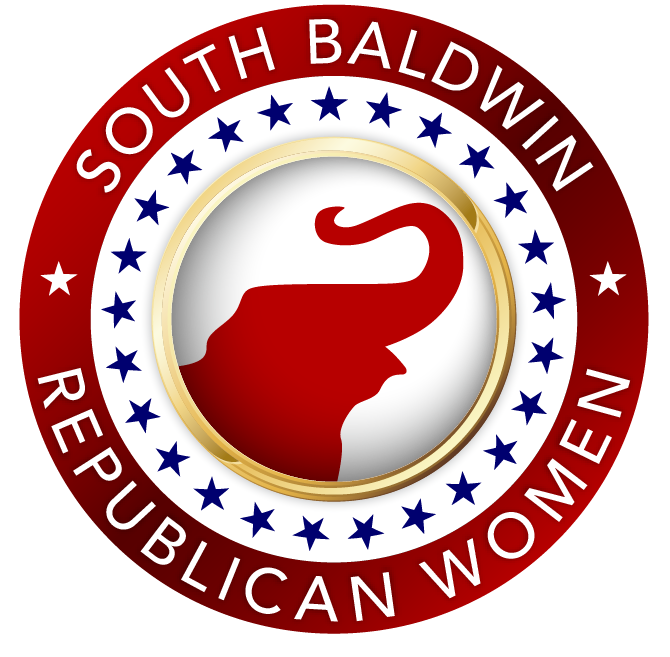 Welcome to South Baldwin Republican Women Online
About the South Baldwin Republican Women
We are a group of politically active, community minded women who believe in the principles, objectives, and policies of the Republican Party.  We foster loyalty to the Party and promote its ideals.
Any woman believing in the principles of the Republican Party and intending generally to support its candidates are eligible for membership.
We encourage and welcome men to join our group through Associate Membership.
 President – Barbara Zander
First Vice President –

Ruthie Campbell

Second Vice President – Laura Johnson
Third Vice President –

Kathy Oehlke 

Assistant to the Third Vice President – Paula Sumrall
Secretary – Sheila Green
Treasurer – Cindy Scivicque
Assistant to the Treasurer –Christina Weaver
From left to right:
Paula Sumrall, Assistant to the Third Vice President
Cindy Scivicque, Treasurer
Kathy Albers, Chaplain
Barbara Zander, President
Sheila Green, Secretary
Kathy Oehlke, Third Vice President
Laura Johnson, Second Vice President
Ruthie Campbell, First Vice President
Not Pictured – Christina Weaver, Assistant to the Treasurer
Photo Credits: Captain Mark and Jeane Carlson
Where We Meet
The Gift Horse Restaurant
209 W. Laurel Ave., Foley, AL 36535
Our Meetings
Meetings are usually the fourth Tuesday of each month (except November and December).
Time
11:00 AM - Meet and Greet with our members
11:30 AM - Buffet Lunch  ($13 cash/check)
(Credit cards are accepted and include a convenience fee - $14)
12:00 PM – 1:00 PM  Speaker and Business meeting